New Audi A6 in the Atlanta Area

Sales hours
Monday

9:00am-7:00pm

Tuesday

9:00am-7:00pm

Wednesday

9:00am-7:00pm

Thursday

9:00am-7:00pm

Friday

9:00am-7:00pm

Saturday

9:00am-6:00pm

Sunday

Closed
Expect To Be Impressed By The New Audi A6 | For Sale In Union City
Audi is known for its powerful and stylish sedans. The newest Audi A6 looks to be one of its best yet. At Audi South Atlanta, we understand how important it is to feel good when you get a new vehicle, so let's dive in and talk about what the new Audi A6 has to offer. It is packed full of intelligent new features to help you on the road. It is also a sedan, so you can take your small family along for the ride.
Audi A6 Overview
The main benefit of this vehicle is that it allows you to stand out from the crowd. This is a vehicle that will never be confused for something else. It includes a plethora of new sensors and features to give you the safest driving experience possible. The interior is beautiful, with comfortable seating and modern conveniences that you don't get in many other vehicles. The exterior is as stylish as you would expect from an Audi sedan. The heads-up display that comes on while you are driving has many useful features to make you safer on the road.
The new Audi A6 can be equipped with genuine Audi accessories to customize your ride, so your time in Atlanta will be filled with a lot more fun and adventure. When it comes to performance, this vehicle does not disappoint. It offers a powerful engine that puts out 335 horsepower and gets to 60 MPH in only 5.1 seconds. This is blazing fast for a sedan!
Performance
The A6 is engineered for performance. That means you are getting a sports car and a sedan mixed in one. You can go to your business meetings and then come home at the speed of light. It gets all of this power from a turbocharged V6 engine. The turbocharging gives you a better drive and better torque on the higher end. The transmission is exceptionally good, being a dual-clutch automatic one. It has all-wheel-drive Quattro technology, so you'll feel really good on the road. Other exceptional features in this car include the brakes and the steering system.
Safety
This vehicle features adaptive cruise assist, so you won't ever be in danger of rear-ending other vehicles. It also has pedestrian sensing to help prevent you from getting into an accident with someone walking on the road. There's also a top-view camera system, and it can create a virtual 360° view to help keep you safe.
Luxury Features
Where this vehicle starts separating itself from the competition is in comfort and luxury. It has many options for seating, and it has a beautiful looking interior as well. There is the option to add decorative inlays to help enhance the look and feel of the interior. The built-in screen and sound system can also be upgraded to fit your needs. There are various add-on packages that also add a little bit extra to your experience.
Technology
When it comes to technology, German cars are some of the best in the world. This car features more than just the safety technology that we discussed above. It also has the technology to help get this vehicle to your destination in the best way possible. The infotainment system allows you to add your smartphone or tablet, and you can personalize it to your own specific needs. This is a vehicle that was built to thrill and excite drivers in Atlanta.
Take the Next Step to Purchasing or Leasing the New Audi A6 in the Atlanta Area
Discuss your purchasing and lease options with a finance expert at Audi South Atlanta. We can help you find the right vehicle for your needs, so schedule a test drive today.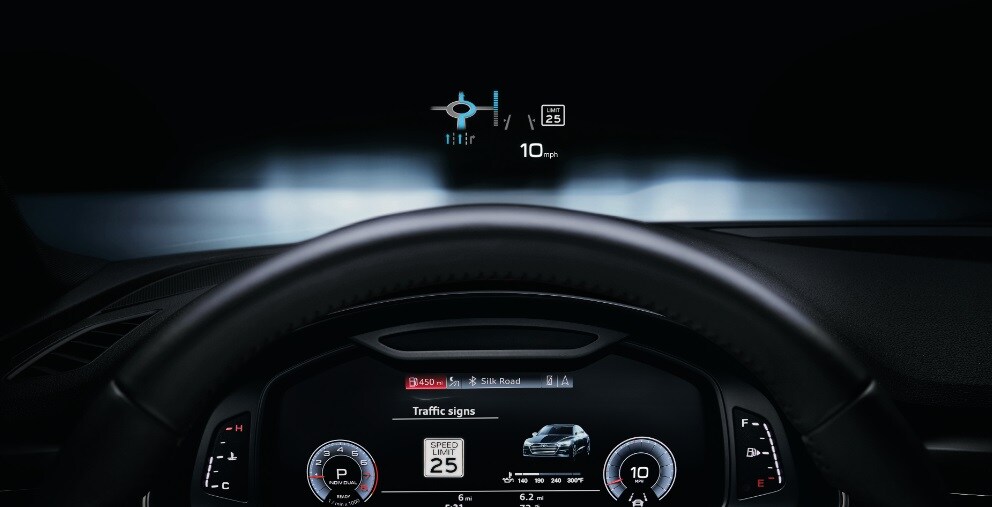 Sales hours
Monday

9:00am-7:00pm

Tuesday

9:00am-7:00pm

Wednesday

9:00am-7:00pm

Thursday

9:00am-7:00pm

Friday

9:00am-7:00pm

Saturday

9:00am-6:00pm

Sunday

Closed
Hours
Monday

9:00am-7:00pm

Tuesday

9:00am-7:00pm

Wednesday

9:00am-7:00pm

Thursday

9:00am-7:00pm

Friday

9:00am-7:00pm

Saturday

9:00am-6:00pm

Sunday

Closed