New Audi Q8 in the Atlanta Area

Sales hours
Monday

9:00am-7:00pm

Tuesday

9:00am-7:00pm

Wednesday

9:00am-7:00pm

Thursday

9:00am-7:00pm

Friday

9:00am-7:00pm

Saturday

9:00am-6:00pm

Sunday

Closed

Browse Our Inventory of Stylish 2021 Audi Q8 Models for Sale in Union City
While the SUV category continues to multiply, few models can compete with the 2021 Audi Q8. Whether you're taking the family on a long road trip or cruising around Atlanta, this new Audi SUV will make every drive more exciting. It not only boasts incredible driving dynamics, but it also comes with a classy and spacious cabin decked out with the latest technology. Plus, you'll be able to drive with confidence at all times due to the many advanced safety features included on this model.
If you're looking to add style and excitement to your daily commute and future adventures, make the smart choice by purchasing or leasing the 2021 Audi Q8 at Audi South Atlanta.
What's New for the 2021 Model Year?
Other than shuffling around some features for each trim, the 2021 Audi Q8 received only a few major updates, specifically in terms of safety features. For this model year, the Audi Q8 comes standard with Audi Side Assist and Audi Pre Sense Rear. These two safety packages include several advanced technologies that will give you added peace of mind on the road.
Performance
The 2021 Audi Q8 will reignite your passion for driving as it's a blast to drive, regardless of how far away your next destination is. For starters, there are three robust engine options available for this new model. While the base V6 engine delivers more than enough power for most driving situations, you can get even more energy by upgrading to one of the available V8 engines, which are both rated for at least 500 horsepower.
In addition to having three potent engine options, the 2021 Audi Q8 also boasts outstanding driving dynamics, which will have you finding more reasons to set out for a drive in Union City. This Audi SUV does an excellent job at keeping the ride smooth while also being quite athletic for a vehicle this size. The handling is composed, and the steering is responsive, both of which contribute to the unrivaled driving experience this SUV delivers.
Interior
Few competitors can match the stunning interior design of the 2021 Audi Q8. High-quality materials cover almost every inch of the cabin. There's also an abundance of passenger space in each row, ensuring everyone can stretch out and stay comfortable while riding along. And you'll never have to worry about being disturbed by outside noise as this cabin is well-insulated.
On top of exquisite craftsmanship, you'll also find multiple high-tech features inside the 2021 Audi Q8. On the dash sits a large, split-screen infotainment display with an upper 10.1-inch touchscreen and a lower 8.6-inch touchscreen. This futuristic infotainment system comes with many useful features, like Apple CarPlay, Android Auto, navigation, and Amazon Alexa, making every drive more convenient and enjoyable.
Safety
As you hunt for your next SUV, it's important to choose a model that will keep you safe, which is why you should invest in the 2021 Audi Q8. This vehicle comes outfitted with a host of advanced safety features, each working hard to ensure you and your passengers make it to your next destination safely. Here are some of the safety technologies that come standard on the new Audi Q8:
Forward-Collision Warning
Automatic Emergency Braking
Lane-Departure Warning
Front and Rear Parking Sensors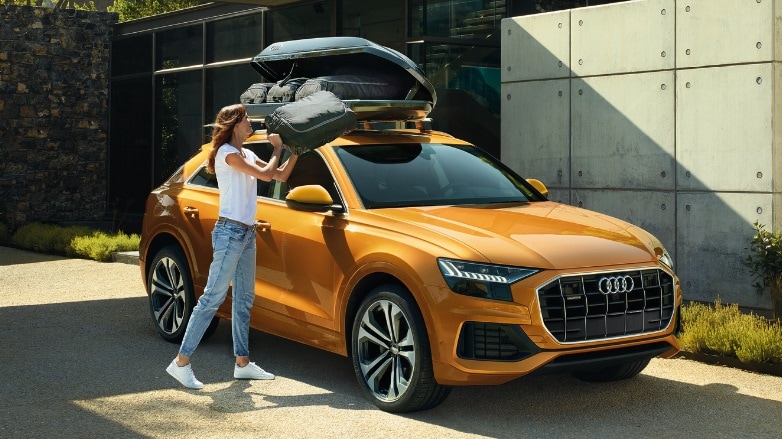 Sales hours
Monday

9:00am-7:00pm

Tuesday

9:00am-7:00pm

Wednesday

9:00am-7:00pm

Thursday

9:00am-7:00pm

Friday

9:00am-7:00pm

Saturday

9:00am-6:00pm

Sunday

Closed
Hours
Monday

9:00am-7:00pm

Tuesday

9:00am-7:00pm

Wednesday

9:00am-7:00pm

Thursday

9:00am-7:00pm

Friday

9:00am-7:00pm

Saturday

9:00am-6:00pm

Sunday

Closed